Planning a golf outing to Scotland? Take plenty of balls
Americans love Scotland, especially if they pretend to have Scottish blood. Throw in some golf and the root of the barley and you have a destination that has proven durable over the years.
With the British Open at the Old Course at St. Andrews this year, interest has been renewed. But, where do you go? With more than 500 courses, which courses do you book? Do you stick with the more famous, or do you wander around and trust your luck? Furthermore, how do you behave? Scots have weird habits and customs, like all those Europeans. As an uncouth American, how do you know you won't do something that will get you thrown off the course?
Enter Gordon Dagleish, a Scottish transplant now living in Atlanta, though he's retained most of his brogue. Gordon and brother Colin own PerryGolf, which books packages to Scotland. Here are some of Dagleish's inside tips on how best to enjoy your Scottish golf vacation.
• Play Western Gailes, the best unknown course in Scotland, according to Dagleish. Founded in 1897, it's on the Ayrshire Coast, where many of the country's best links courses are situated. "People invariably ask you abut your favorite, unknown golf course," Dagleish said. "I strongly argue Western Gailes."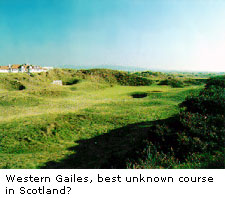 • Take off your hat when under a Scottish roof. "Having grown up in Scotland, the one thing the Scots are very cognizant of is wearing your hat inside," Dagleish said. "It's just one of these things, you walk inside with your hat, that's absolutely no-no. Not just a golf course, any building - it would be considered extremely uncouth."
Anybody out there old enough to remember when it used to be like that in the U.S.?
• Try to understand everything your caddy says. This one can be harder than it sounds, literally.
• Order a lager and lime (yes, lime juice). For Americans used to warm, bland beer, lime juice takes some of the sharpness out of the beer.
• Walk up on the final day of the British Open and buy a ticket. It's not that difficult. "That all goes back to the societal view of golf as an 'everyman' sport," Dagleish said. "Because invariably, when you start putting restrictions on things, it becomes quite an issue and every man can't afford it." There was talk of caps for the 2000 British Open and the Royal and Ancient quashed that in a hurry.
• Enjoy a drink at sunset overlooking the Ailsa Craig at Turnberry with the bagpiper playing.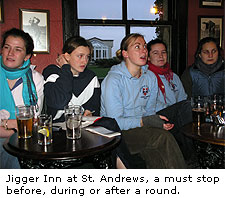 • Enjoy a full, three-course lunch with wine and cocktails at Muirfield, and then play foursomes in the afternoon. "Muirfield is probably the stuffiest golf club in Scotland," Dagleish said. "It's not really a game of golf at that stage, it's an opportunity for the members to sober up so they can drive home."
• Pack two pairs of waterproof golf shoes to alternate in case they get wet. "It does rain in Scotland, you know," Dagleish said. "If you're traveling, it becomes tiresome to wear wet shoes all day long."
• Pack golf balls... golf balls... and more golf balls: They're more expensive in the UK, more than double U.S. prices with the exchange rate - about $7-$8 a ball. "If you make the mistake of walking into the pro shop at Turnberry or someplace like that, the numbers even caught me by surprise," Dagleish said.
• Order a pint of beer in the Jigger Inn at St. Andrews, beside the 17th fairway.
• Minimize your warm-up swings. If you keep your hat on in the clubhouse, you may as well practice your swing to warm up on the first tee - the most obvious sign of an American visitor. With short growing seasons, turf is sacred and unnecessary divots will direct Scottish ire at your American self. "I'm talking about the guy who decides to warm up with six practice swings," Dagleish said. "That's a sure way to raise the ire of somebody."
• Stop and play a local town club you see as you drive through the countryside. "You don't want to build your vacation around it, but at the end of the day you're probably going to come into the clubhouse and meet an interesting assortment of very nice people," Dagleish said. "Some people go through life and have to check off this name and that name, but if you've got the time and you're one of these people who likes to stop and smell the roses and look behind the curtain, taking a couple of days off and going wandering and finding a golf course you hadn't expected to find can be great. It might not be in perfect condition, but it adds value, rather than just going and playing the top six courses in Scotland."
May 19, 2005